This tutorial will cover the construction of the base for a mermaid tail, adding the scales to the tail and the finishing touches to embellishing the mermaid tail.
Heres all the tools and supplies I will be using for this tutorial. Basically what is here is Sculpey in neon green and black, regular Sculpey, wire, Aluminum foil, wire cutters, exacto knife, green Angelina Film, green microbeads, black glitter, neon green glitter glue, and of course...a cup of soda.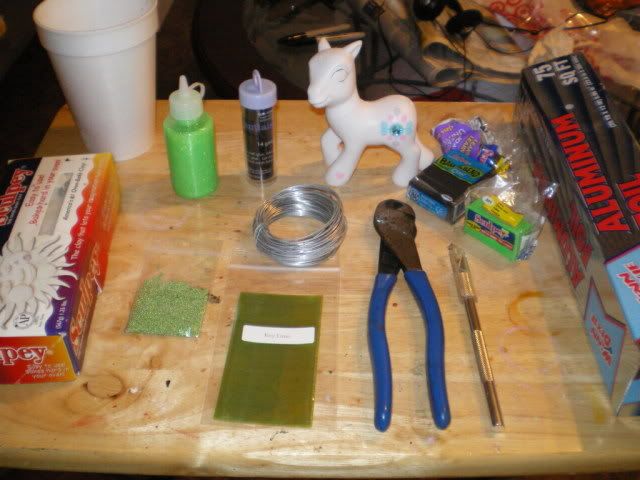 Now to get started. I prepped the bait as usual, removing hair and symbols. I then plotted where I wanted the tail to start on her and cut along those lines. The way I cut it, it makes a V shape on the top and bottom of the belly.
Now comes the hard part...the posing. Basically the idea is to make a long tapered cone with the aluminum foil, you cram the thick end into the pony half. Here I am using some sculpey to anchor it while I position it. It took me forever to get a pose that a) looked good b) made sense and c) stood up by itself. So you really just have to keep bending until you get to where you are happy with it, or just dont care anymore LOL
Ok now that you are happy with your tails pose, you just start covering the foil with sculpey. Cover the whole thing, and dont worry about it being perfectly smooth, fingerprints are ok, since you wont see it anyways. Now when you get to the end, you need to insert the wire you will be using to make the tail fin. I just shaped the two wires that will make up the edges/base of the fin and poked them into the tail and adjusted them so that they were at an angle I liked.
 Now pop that bad girl in the oven. Let it bake for the normal 10-15 and let cool. Now wiggle the wires out. Taadaa! now you are ready for some scales!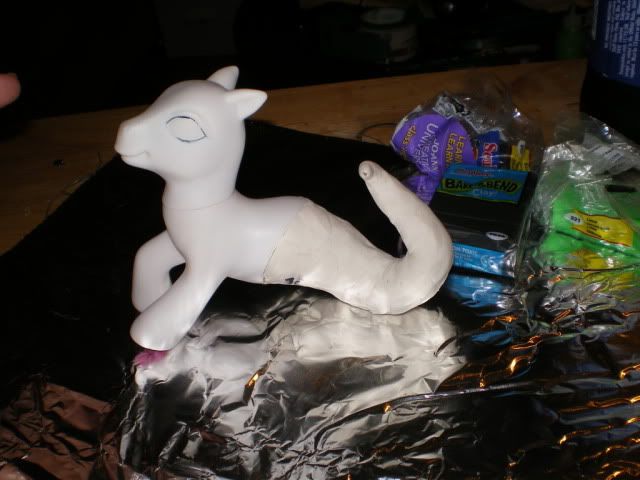 Now is the time to get comfy and find a movie (or two) that you really like to pop in....cuz these scales take FOREVER. Alright...the basic idea is very simple. Make a tiny ball of clay, and stick it on the tail. Repeat. About 60 million times. Heres the size scale you should be working with...of course you can make them any size you want...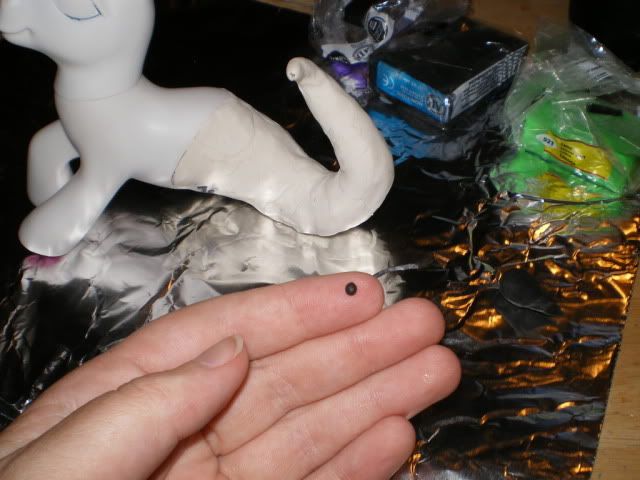 Ok, now youve got one scale....pick a good spot on the edge where the tail meets the pony and stick it on there!
 Great job! But dont stop now! Youve got a whole tail to go! Start by going all the way around the pony/tail seam. I got a little fancy and added ones creeping onto the pony, so its not a boring even seam of scales.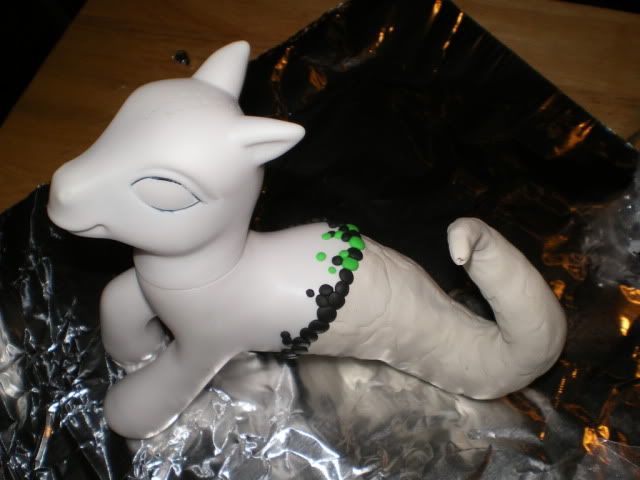 My mermaid is going to have a stripe of green down her back, thus the pattern you see emerging there. Now just keep going, layering on scales so that they overlap jsut a tiny bit and they are close enough together to keep any base colours from peeking through. In retrospect, I shoulda painted the tail bade black first...hmm. Anyways...excuse my manly hands LOL :P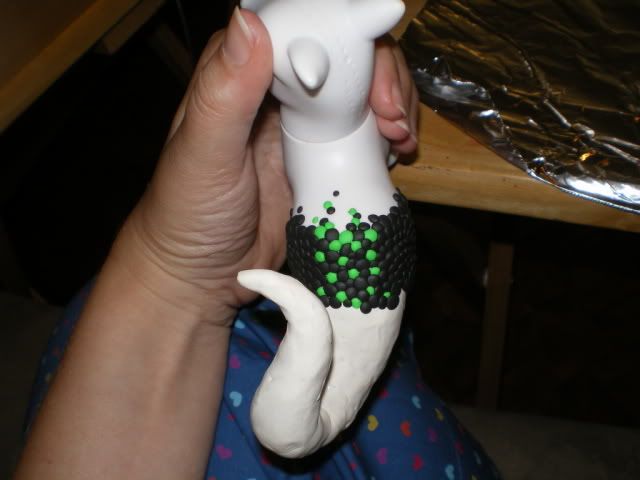 And just keep going...and going....and going....dont forget to eat. And switch out movies as needed.
Almost there....or so you think....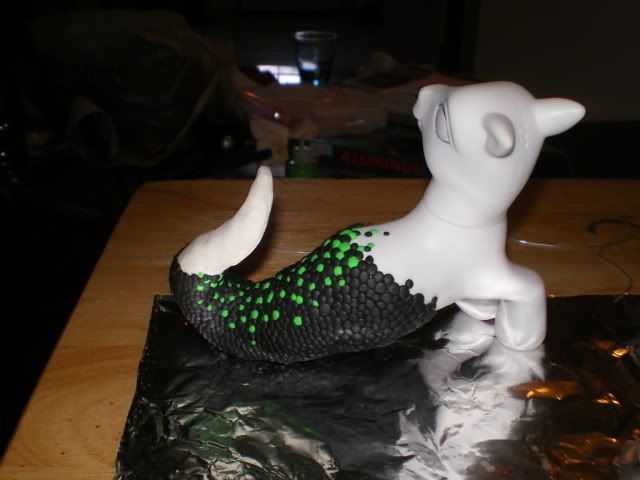 When will it end??!??! At about this point *points up* you should start making the scales smaller....and smaller...until you get to the tip of the tail. And dont cover up the holes for your wire! but cover everything around it.
FINALLY! YES! Give yourself a little victory dance. Now before you pop her back in the oven, make a couple dozen scales and just put them on some tin foil. It seems insane right now, but I swear theres a method to this madness. Pop the tail fin wires back in and put everything in the oven for another 10-15 minutes.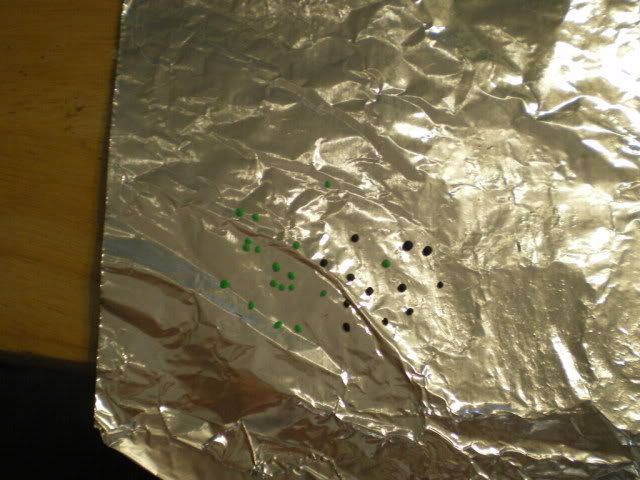 Ok once shes done, take her out and let her cool. Wiggle the wires back out and lets make her a lovely fin! Take your edge/structure/base wires (whatever you want to call them) and lay them out. Pictured here is my outline I drew on some excess foil that shows what I want my tail to look like, the wire, wire cutter, sharpie, and foil. Using a doodle, or just playing it by ear cut and shape your wire. I wanted a simple tail, so I just cut two more wires to make a fish-esque tail.
Now cut a peice of film big enough for you tail to lay on and lay out the wires for your tail. Make sure it all fits and looks good, then glue it down to the film. Yes that IS green film in the pic...it just looks very....uh...pink. :/
Now after the glue dries, trim up the edges to get the basic shape of your fin. Now if you dont know how to use angelina/fantasy film, I will explain it very shortly, but I recommend looking for a longer, better tutorial. Basically you hold it close to a flame to cause the film to shrink, stiffen and turn all sort of awesome colours. You can also get a little closer to flame or heat to cause holes to open in the film. Thats basically what I did...I also made two little side fins, which were just a couple pieces of stright wire and some scraps of film. Heres the end results: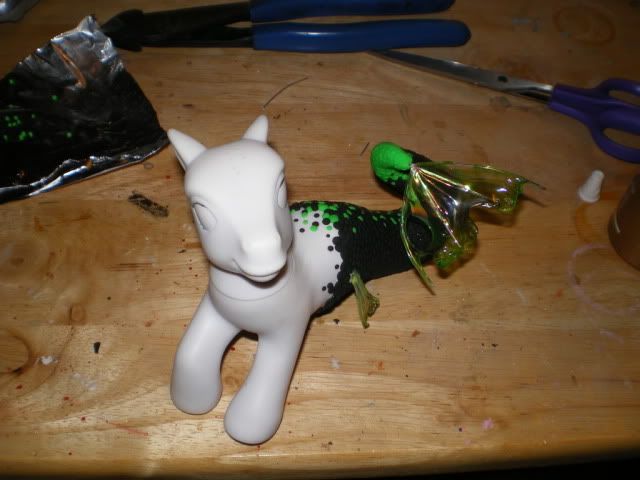 I recommend using clear Gallery Glass (a glass paint in a squeeze tube that should be easily found at most craft stores) on the back side of your film pieces for extra stability/shinyness. You can also sprinkle glitter and microbeads into the glass while its wet...but I digress. After my glass dried, I glued the two little fins on and inserted the tail fin into the holes. Use a bit of glue. Now...Those extra scales! Glue them onto the base of the fins, so its not so obvious where the wires are. See? Im not totally crazy. I also added glitter glue to the edges of my fins: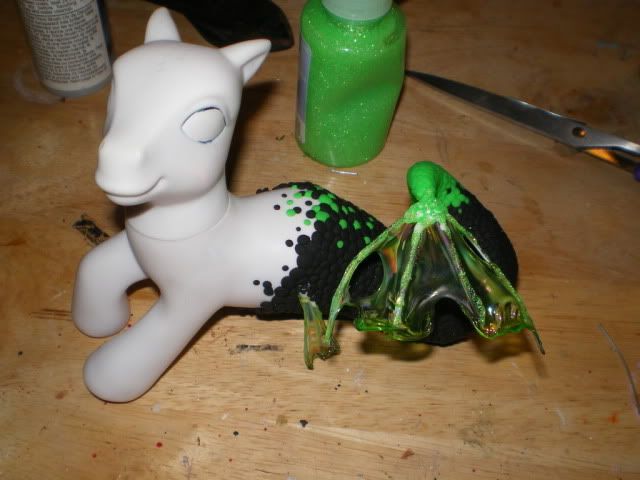 Now using some of my Triple Thick Sealant (or glue of your choice) I added microbeads here and there, trying to simulate a kinda....seafoam look.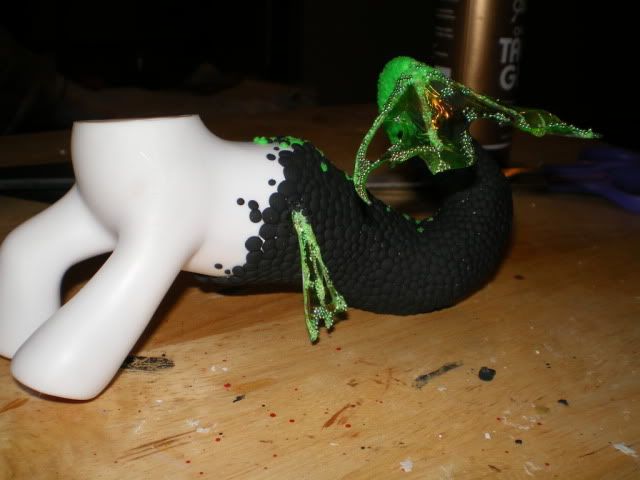 Thats about it. I did add a little black glitter here and there, then sealed the whole tail with a satin sealant. Here she is all done: